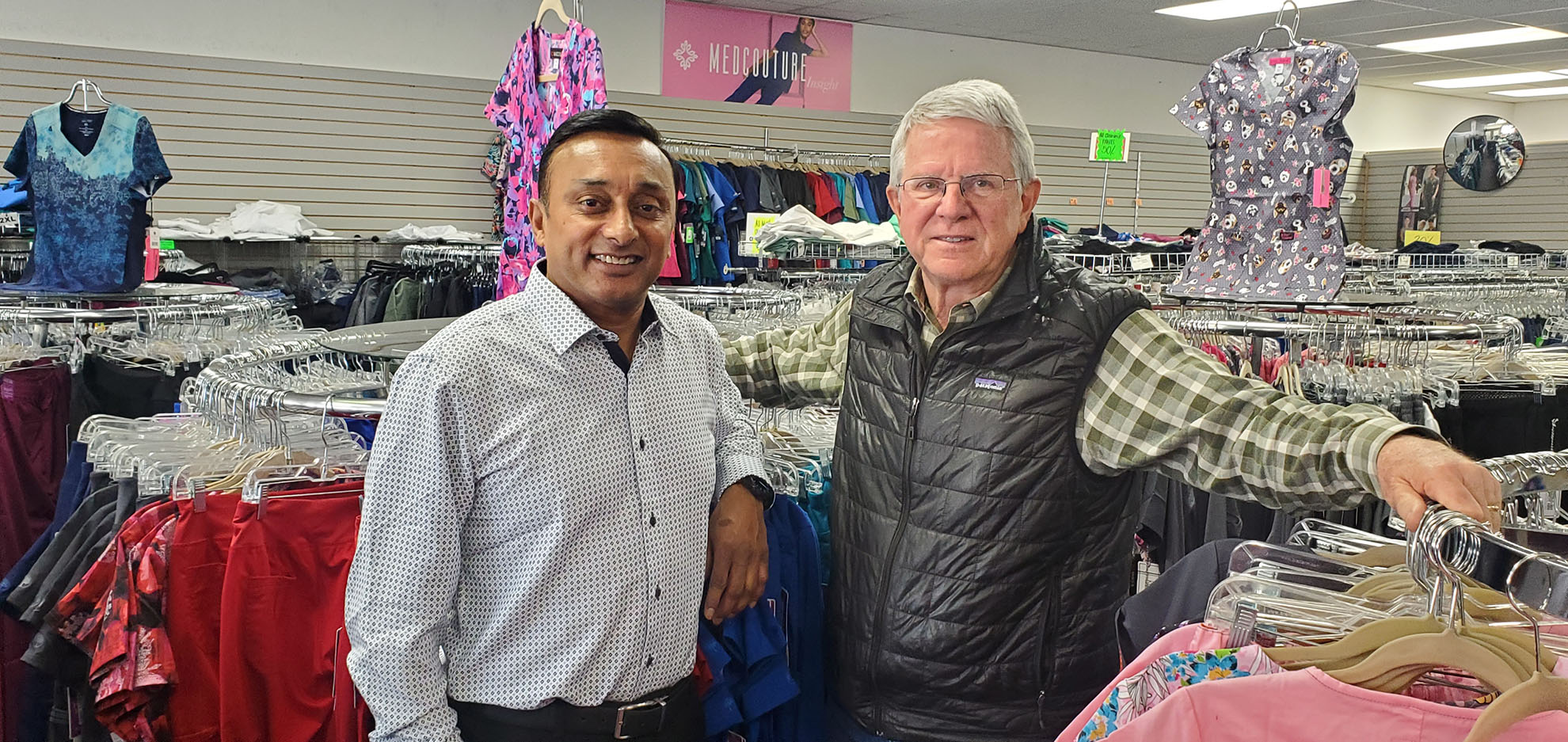 Absolutely Uniforms
Uniform Store specializing in medical, dental, professional, and chef wear, located in Sunnyvale, Santa Clara County
Overview
Debra Cameron, the owner of Absolutely Uniforms, got into the business in 1988 when she purchased Cottage Uniforms in Sunnyvale.  Five years later, she started Absolutely Uniforms as a second location at 916 S. Bascom Avenue and in 2000 moved it to its present location.  In 2013 the Sunnyvale store was closed and consolidated into the Bascom Avenue location. 
The store is conveniently located across the street from Valley Medical Center and is close to several schools and medical facilities.  It's situated in a 4,000 sq. ft. building with a large showroom and a spacious office.  Behind the building there's a fenced in area that has a 20' x 8' x 8' storage container used for storing inventory.
Absolutely Uniforms, the largest uniform store in the Bay Area, specializes in the sales of medical and dental uniforms, professional shoes, medical supplies and chef wear. It has developed strong relationships with its vendors and carries over 40 lines including Koi, Barco, Cherokee, Dickies, Healing Hands and Wink.  Absolutely is known for its wide selection and having the latest styles in medical wear and chef wear.  It has become the destination location in the Bay Area and beyond for customers from medical and dental offices, colleges, vocational schools, veterinary clinics, restaurants and traveling nurses.  It was given the prestigious Top Single Uniform Store award by the Uniform Retailers Association in both 2012 and 2016.
Its experienced staff includes a floor manager who has been there nineteen years and four other highly qualified employees who have helped the store develop a reputation for outstanding customer service.  All the employees know the business is on the market and have indicated a willingness to stay with a new owner.
After over thirty years in the business, the owner is ready to pass this well-established business on to a new operator.  Absolutely Uniforms has always been a profitable operation, but an ambitious new owner could increase the bottom line by adding e-commerce sales, in-house embroidery service and an outside salesperson.
Please let us know if you have any questions. You can reach us at (408) 246-3846 or babizbkr@gmail.com. We have been matching buyers and sellers since 1981. To view our current listings, please visit https://bayareabizbrokers.com/businesses-for-sale/.